School of Surgical Technology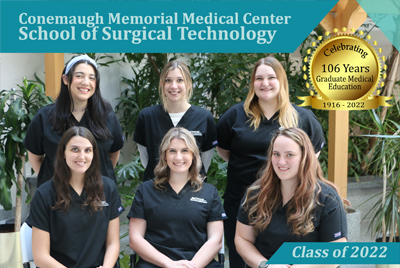 Conemaugh School of Surgical Technology is committed to effective education in this allied health profession dedicated to providing surgical care.
Most surgical technologists are employed in the operating room. Surgical Technologists also have a variety of additional employment opportunities including:
Specialization in a surgical specialty such as orthopedics, cardiovascular surgery or trauma
Employment in material management or sterile processing areas
Surgical technology instructor and / or program director
Surgical assistant
Medical salesperson
Organ and tissue procurement technician
Private employment by a surgeon
Research and product development assistant
Veterinary assistant
Labor and delivery technician
Surgery scheduler
Anesthesia technologist
Employment as a traveling surgical technologist to fill temporary staffing needs for health care facilities
Volunteer opportunities (e.g., Peace Corps)
Military service
Technical writing, illustration and photography
Employment as a private consultant
Source: Introduction to Surgical Technology, Section 1
Surgical Technology Program Goals
1. Provide a structured educational process which prepares the graduate to assume an entry-level position as a surgical technologist.
2. Utilize scientific knowledge to produce clinical excellence and caring abilities in professional role development.
3. Utilize educational innovations in fostering critical thinking skills through learning interaction between student and teacher.
4. Prepare entry-level Surgical Technologists who are competent in the cognitive (knowledge), psychomotor (skills) and affective (behavior) learning domains to enter the profession.
---
---
Joint venture with the University of Pittsburgh https://www.johnstown.pitt.edu/academics/majors-programs/nursing-and-health-sciences/allied-health-programs/surgical-technology allows students to earn college credits which are applicable in the attainment of an Associate Degree in Allied Health
59 credits for Conemaugh Memorial Medical Center's Certificate in Surgical Technology
74 credits required for Associate Degree in Allied Health
1,035 clinical hours
College courses can be taken on a part-time status. The clinical component is a full-time commitment.
Courses taken at a college or university are evaluated for transfer on an individual basis.
---
NBSTSA Exam
Graduates of the Conemaugh School of Surgical Technology are eligible to take the certification exam of the National Board of Surgical Technology and Surgical Assisting (NBSTSA). Graduates of the Conemaugh School of Surgical Technology usually have had a 100% pass rate on the NBSTSA certification exam (first attempt) including 15 of the last 16 years (2008-2018, 2020, 2021, 2022, and 2023). The national average pass rate is approx. 70%. The Conemaugh School of Surgical Technology received several National Merit Awards from the NBSTSA and a Certificate of Excellence Award for these exceptional results.
Pass Rates on the National Certification Exam:

2023 - 100%
2022 - 100%
2021 - 100%
2020 - 100%
It has become an approved accreditation standard (November 2021), that all Surgical Technology students complete a Surgical Technology Program with a minimum of an Associate Degree (for those classes starting after Aug. 1, 2022). Students possessing an Associate Degree or higher prior to entrance, will be considered to meet that standard until classes that start after August 1, 2024 when the Associate Degree or higher must be earned from an Accredited Program in Surgical Technology to sit for the NBSTSA National Certification Exam.
---
Accreditation
The Program for Surgical Technology is accredited by the Commission on Accreditation of Allied Health Education Programs (www.caahep.org) upon the recommendation of Accreditation Review Council on Education in Surgical Technology and Surgical Assisting (ARC/STSA).
Commission on Accreditation of Allied Health Education Programs (CAAHEP)
9355 - 113th Street, N, #7709
Seminole, FL 33775
Phone: 727-210-2350
Fax: 727-210-2354
ARC-STSA
Accreditation Review Council for Surgical Technology and Surgical Assisting
19751 E. Main Street, Suite 339
Parker, CO 80138
303-694-9262
---
The U.S. Department of Education's Office for Civil Rights (OCR) is pleased to release a technical assistance video, How to File a Complaint, to help parents, families, student, and stakeholders better understand how they can file a complaint with OCR. This resource provides clear and concise direction on how an individual may bring incidents of potential discrimination to the attention of OCR, and includes information on deadlines, ways to provide the required information to OCR, and potential outcomes of complaint investigations. A direct link to the video is available at: https://youtu.be/dvxa5dYNKK8
Information about the Bureau of Consumer Protection's process for submitting consumer complaints
Phone: 800.441.2555
Conemaugh Health System is required by U.S. Department of Education regulations to provide its students and prospective students with contact information for any relevant state official or agency that would appropriately handle a student's complaint about Conemaugh's education programs. Students are encouraged to utilize Conemaugh's internal complaint policies and procedures prior to filing a complaint with the Commonwealth of Pennsylvania. If a concern cannot be addressed through internal processes, students or prospective students may file a complaint with the Pennsylvania Attorney General's Bureau of Consumer Protection (16th Floor, Strawberry Square, Harrisburg, PA 17120).