Medical Skills Learning Center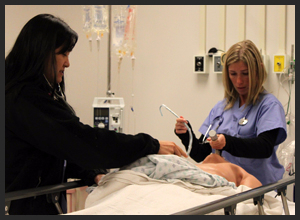 Conemaugh Memorial Medical Center's Medical Skills Learning Center is one of less than 100 simulation centers in the world accredited by the American College of Surgeons as a Comprehensive Education Institute. Equipped with state-of-the-art technology and simulation tools, this interactive training lab creates a safe, risk-free environment where physicians, residents, medical students, and nursing and allied health students can master skills from basic patient assessment to complex life-saving procedures.
Conemaugh Memorial Medical Skills Learning Center is also utilized for training military personnel and the local Special Emergency Response Team (SERT) on life-saving skills. Simulators are also utilized to provide customer service training to Conemaugh Health System employees for continuous improvement and providing the ideal patient experience.
---
Mission
The mission of the Medical Skills Learning Center is to design and implement high quality healthcare simulation that promotes wellness, safety, improved patient outcomes and interprofessional collaboration.
Vision
The Medical Skills Learning Center strives to create an innovative and comprehensive learning environment to improve patient safety and quality of care. Through simulation we inspire collaboration, engage the community in health care and prevention, and enhance skilled interaction among our patients, health care professionals and students, ancillary support, and industry partners.
---
Comprehensive Education Institute Accreditation
Conemaugh Memorial's Medical Skills Learning Center is accredited as a Level 1 Comprehensive Educational Institute by:
American College of Surgeons
633 N Saint Clair Street
Chicago, IL 60611
800-621-4111
postmaster@facs.org
To be an Accredited Comprehensive Education Institute, the Conemaugh Memorial Medical Skills Learning Center meetings rigorous standards including training at least three different types of learners, curriculum providing ongoing education and training that is cognitive and procedural, and meeting specific space, technology, and resource requirements. Conemaugh's Medical Skills Learning Center currently assists in the training of physicians, residents, nurses, allied health professionals, medical, nursing, and allied health students, and employees of Conemaugh Health System.