Your Future is in Reach
Conemaugh Health System has a long history of hiring a significant number of nursing and allied health graduates annually. Students benefit from the advanced, integrated clinical experiences at hospitals across the system. As part of the program, students will be paired with a designated mentor upon graduation to help create a supportive environment to learn and grow within the health system.
Conemaugh School of Nursing is offering FULL LOAN FORGIVENESS and GUARANTEED JOB PLACEMENT upon graduation for Fall 2023.
For Fall of 2023, student nurse recruits, who are employed within Conemaugh Health System, will be eligible for 100% loan forgiveness upon graduation and successful completion of the National Council Licensure Examination (NCLEX). Students may also qualify for additional incentives including a $3,000 stipend for use toward educational expenses, and a $15,000 sign-on bonus upon graduation.
Applications MUST be received no later than May 30, 2023 for Fall 2023 Class.
Program Benefits:
Full loan forgiveness
$3,000 stipend (to be used for educational expenses)
$15,000 sign-on bonus
Unmatched clinical experience (>900 hours)
Accelerated learning (<2 years to RN)
NCLEX board pass rate 97.6%
Guaranteed job placement in Conemaugh Health System
Get started on your future today.
Contact: Leah Patton Academic Admissions Coordinator at 814.534.9492 or lpatton@conemaugh.org.
Conemaugh's commitment to education is evidenced by hospital-based Conemaugh School of Nursing, five Allied Health schools, seven physician residency programs, a pharmacy residency program and more than 200 medical school rotations every year. The Medical Skills Lab is one of 64 human simulation labs accredited nationally by the American College of Surgeons. Also offered at Conemaugh is the Conemaugh Learning Institute, which provides clinical educational courses for employees and the general public.
The Conemaugh School of Nursing and Allied Health Programs encourages you to learn more about our programs listed below.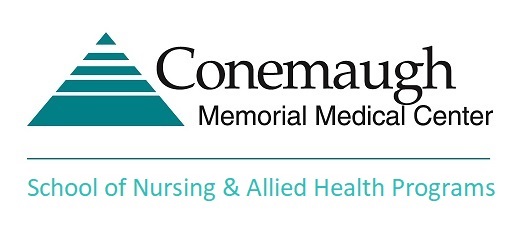 Emergency Medical Services
Histotechnology
Medical Laboratory Science
Nursing
Radiologic Technology
Surgical Technology
Send an Inquiry

Conemaugh Student Portal
---
For more information on all education offered through Conemaugh Memorial Medical Center, please use the navigation menu on this page.
The U.S. Department of Education's Office for Civil Rights (OCR) is pleased to release a technical assistance video, How to File a Complaint, to help parents, families, student, and stakeholders better understand how they can file a complaint with OCR. This resource provides clear and concise direction on how an individual may bring incidents of potential discrimination to the attention of OCR, and includes information on deadlines, ways to provide the required information to OCR, and potential outcomes of complaint investigations. A direct link to the video is available at: https://youtu.be/dvxa5dYNKK8
Information about the Bureau of Consumer Protection's process for submitting consumer complaints
Phone: 800-441-2555