Conemaugh Health System offers a comprehensive, supportive program to assist with weight management. Surgical treatment, when combined with nutrition, exercise counseling, and behavior modification, offers hope to individuals who have tried repeatedly to lose excess weight. At Conemaugh Health System, a candidate for weight loss surgery is between 18 and 72 years of age.
Conemaugh Health System weight loss surgery procedures include gastric bypass and gastric sleeve. These procedures are performed laparoscopically or with advanced robotics to minimize scarring and accelerate healing. Bariatric surgery patients, on average, lose about one-third of their initial weight in approximately 12-18 months. Studies show that after 10-14 years, 50% of the excess weight loss is maintained. For this reason, the American Heart Association and the National Institutes of Health state that metabolic and bariatric surgery may be the only treatment option that can produce long-term weight loss when other treatment options have failed.
After viewing the online seminar above, please call 814-539-8725, option 2 for additional information and to schedule your first appointment. You may also contact our office via email at mbrubake@conemaugh.org.
---
Comprehensive Program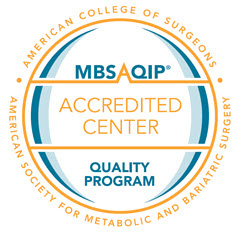 Conemaugh Health System healthcare professionals are trained to meet the needs of weight management and weight loss patients. Conemaugh's comprehensive Weight Management and Weight Loss program utilizing the standards set by the Metabolic and Bariatric Surgery Accreditation and Quality Improvement Program (MBSAQIP). MBSAQIP works to advance safe, high-quality care for bariatric surgical patients through the accreditation of bariatric surgical centers. A bariatric surgical center achieves accreditation following a rigorous review process during which it proves that it can maintain certain physical resources, human resources, and standards of practice. All accredited centers report their outcomes to the MBSAQIP database.
Blue Distinction Recognition

Conemaugh Memorial Medical Center has been recognized as a Blue Distinction® Center+ for Bariatric Surgery, designated as part of the Blue Distinction Specialty Care program of Highmark Blue Cross Blue Shield. Blue Distinction Centers are nationally designated health care facilities that demonstrate expertise in delivering improved safety and health outcomes for patients.
To receive a Blue Distinction Center+ for Bariatric Surgery designation, a health care facility must demonstrate success in meeting patient safety measures as well as bariatric-specific quality measures, including complication and readmission rates for laparoscopic procedures in sleeve gastrectomy, gastric bypass, and adjustable gastric band. The health care facility must also be nationally accredited at both the facility and bariatric program-specific levels, and demonstrate an effective level of cost-efficiency.
---
Insurance Coverage
Many health insurance plans, including Medicare and most Medicaid plans, provide coverage for weight loss surgery. Conemaugh Health System insurance coordinators offer financial counseling and insurance coverage information. Some out of pocket expenses include co-pays for physician office visits and tests needed to verify health status prior to surgery.
415 Napoleon Place
Johnstown, PA 15901
Phone: (814) 539-8725
Fax: (814) 539-3906