School of Medical Laboratory Science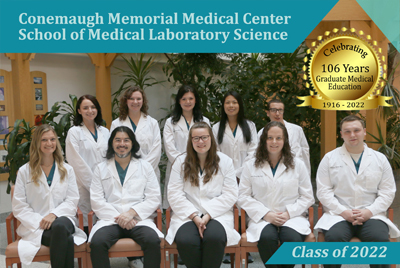 Conemaugh School of Medical Laboratory Science is committed to providing comprehensive education for medical laboratory scientist who perform scientific tests in the Department of Laboratory Medicine to help in diagnosis and prognostic aspects of disease. Medical laboratory scientist are indispensable, top-level laboratory workers and supervisors, specialists and teachers for a wide range of complex diagnostic and treatment procedures.
Conemaugh School of Medical Laboratory Science offers a 48-week program that provides theoretical and clinical training for qualified, academically prepared students. Students of all ages participate in the program including recent graduates, college graduates, displaced workers and individuals pursuing a second career opportunity.
For more information on the Conemaugh School of Medical Laboratory Science, contact:
Accreditation
Conemaugh School of Medical Laboratory Science is accredited by:
National Accrediting Agency for Clinical Laboratory Sciences (NAACLS)
5600 N River Road, Suite 720
Rosemont, IL 60018
773-714-8880
info@naacls.org
---
The U.S. Department of Education's Office for Civil Rights (OCR) is pleased to release a technical assistance video, How to File a Complaint, to help parents, families, student, and stakeholders better understand how they can file a complaint with OCR. This resource provides clear and concise direction on how an individual may bring incidents of potential discrimination to the attention of OCR, and includes information on deadlines, ways to provide the required information to OCR, and potential outcomes of complaint investigations. A direct link to the video is available here.
Information about the Bureau of Consumer Protection's process for submitting consumer complaints.
Phone: 800-441-2555
Conemaugh Health System is required by U.S. Department of Education regulations to provide its students and prospective students with contact information for any relevant state official or agency that would appropriately handle a student's complaint about Conemaugh's education programs. Students are encouraged to utilize Conemaugh's internal complaint policies and procedures prior to filing a complaint with the Commonwealth of Pennsylvania. If a concern cannot be addressed through internal processes, students or prospective students may file a complaint with the Pennsylvania Attorney General's Bureau of Consumer Protection (16th Floor, Strawberry Square, Harrisburg, PA 17120).