Conemaugh Physician Group – Surgery welcomes Karleigh Curfman, MD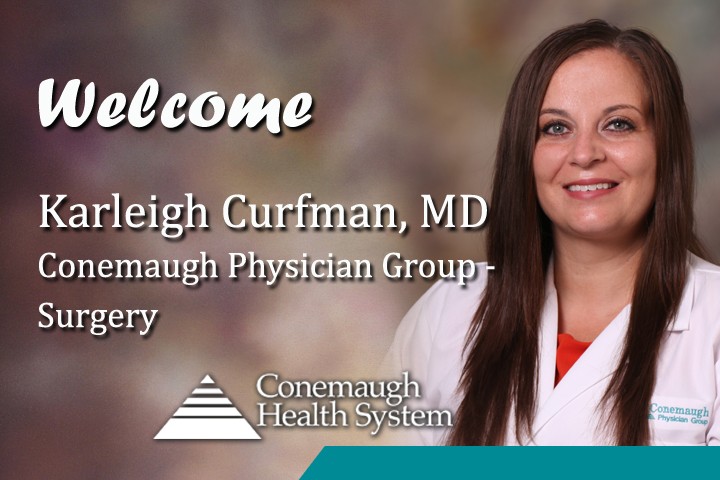 Conemaugh Physician Group – Surgery has welcomed board-certified surgeon, Karleigh Curfman, MD to their team.
Dr. Curfman earned her Doctor of Medicine degree from Ross University of Medicine in Portsmouth, Dominica, West Indies. She completed a residency in general surgery at Conemaugh Memorial Medical Center in Johnstown, PA, and a fellowship in minimally invasive surgery at MultiCare Health System in Tacoma, WA.
Dr. Curfman specializes in colon and rectal cancer, diverticulitis, inflammatory bowel disease, and rectal prolapse. She brings to Conemaugh Memorial these state-of-the-art surgical procedures; transanal minimally invasive surgery (TAMIS), natural orifice-assisted intracorporeal anastomosis (NICE), ligation of the intersphincteric fistula tract (LIFT) and Botox for anal fissures.
"I chose to come back to Conemaugh Memorial because Johnstown became my home during my surgical residency. I connected with the people in this community, and I think that connection, where the patients, staff, and I can work together as a team, is how to achieve the best results. With my return, I am excited to bring the newly developed techniques that I practiced during fellowship. These procedures include minimally invasive robotic approaches to colon and rectal resections, transanal minimally invasive surgery (TAMIS) for rectal polyps and tumors, and natural orifice extraction (NICE). These techniques reduce incisions, and patients can expect quicker recovery times and minimal scarring. Additionally, I now also provide anal Botox injections for anal fissures, a technique that decreases the risk of incontinence associated with traditional surgery, and the LIFT (ligation of intersphincteric fistula tract) procedure for chronic anal fistula, which also decreases risk of incontinence and recurrence. In alignment with current guidelines, my goal is to perform these surgeries on an enhanced recovery system (ERAS) with a focus on minimal-to-no use of narcotics, an earlier return to eating, a faster return to normal function, and less time in the hospital," says Dr. Curfman.
Appointments can be made by calling Conemaugh Physician Group - Surgery at 814.539.8725.
Conemaugh Physician Group – Surgery
415 Napoleon Place
Johnstown, PA
Read All Posts