Conemaugh Physician Group – OB/GYN welcomes Mary Toth, DNP, FNP-BC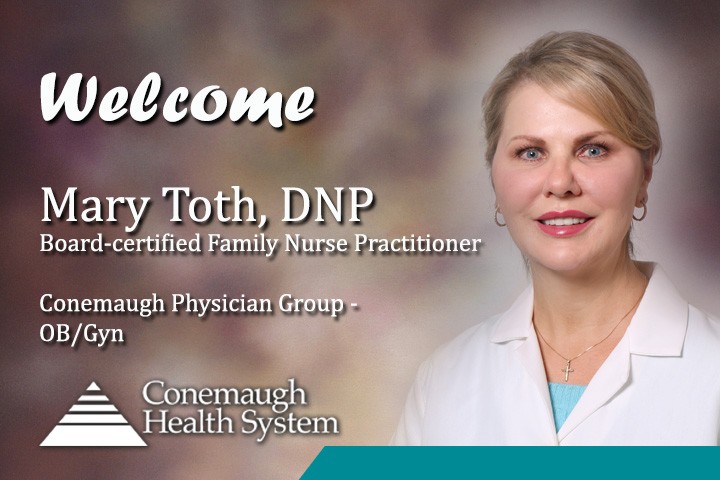 Conemaugh Physician Group – OB/GYN is thrilled to welcome Board-certified Family Nurse Practitioner Mary Toth, DNP.
Toth attended the University of Pittsburgh at Johnstown, where she received dual Bachelor of Science degrees in Nursing and Business Administration. She continued her education at Wright State University in Dayton, OH, where she earned her Master of Science degrees in Allied Health and Illness and Family Nurse Practitioner.
She earned her Doctor of Nursing Practice from Wright State University in 2011.
Toth has over 35 years of nursing experience, including 24 years as a family nurse practitioner. She has specialized training in family medicine, OB/GYN, dermatology, medical aesthetics, and urgent care.
Following her husband, Colonel Paul J. Toth, throughout his career with the United States Air Force, Toth served the USAF as a nurse practitioner at the Misawa Air Base in Japan. Before returning home to Cambria County, Toth provided critical women's health services, including managing the care of pregnant women and high-risk OB patients, providing prenatal care, and providing gynecological care, including contraceptive management, urogynecology, and dysplasia care, at numerous locations throughout the United States.
Toth specializes in various aspects of obstetrics and gynecology including annual checkups, problem visits, disease management, cervical and vaginal colposcopies, endometrial biopsy, birth control management, and intrauterine insemination.
Toth is a member of the American Academy of Nurse Practitioners.
She is now accepting new patients at Conemaugh East Hills Outpatient Center. Appointments can be made by calling Conemaugh Physician Group – OB/GYN at 814.534.9230.
Conemaugh Physical Group – OB/GYN
Conemaugh East Hills Outpatient Center
1450 Scalp Avenue, Johnstown, PA 15904
Read All Posts