Conemaugh Meyersdale named top critical access hospital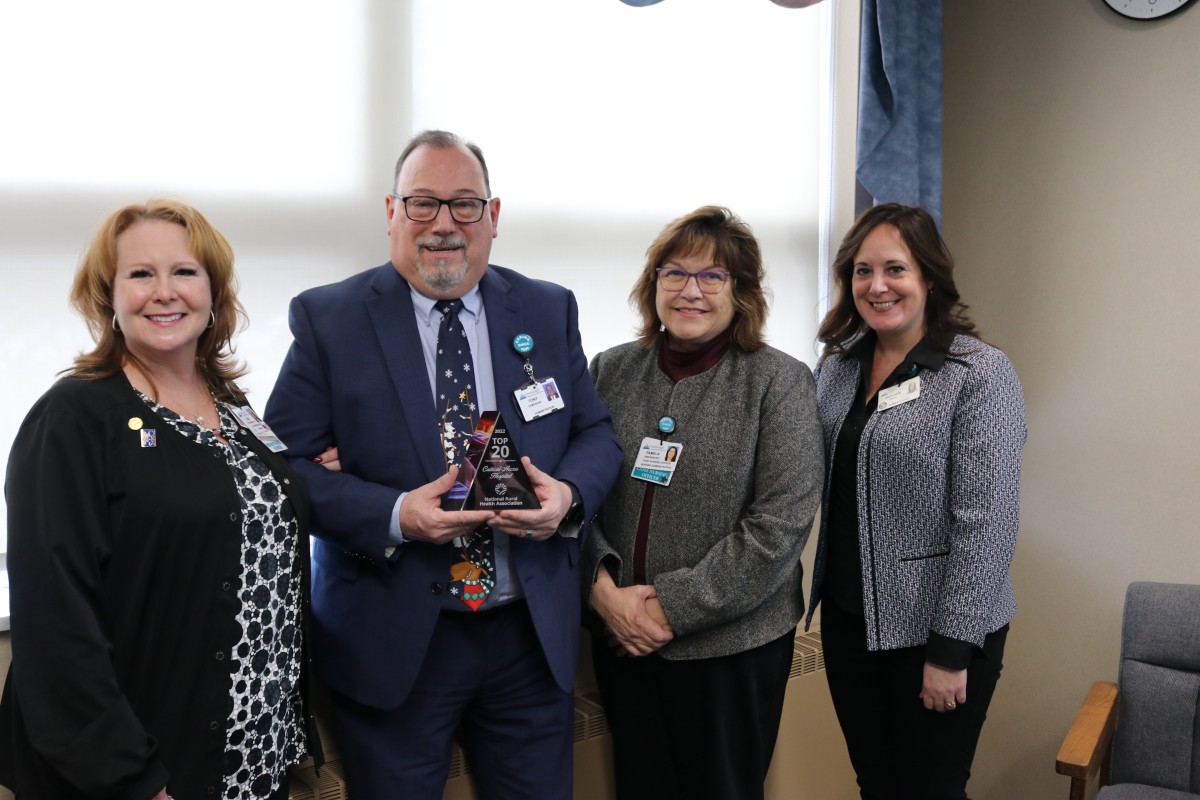 Conemaugh Meyersdale Medical Center officially accepted the National Rural Health Association's Quality Award at a press conference held this afternoon at the medical center. The award recognizes Conemaugh Meyersdale as one of the 20 highest-ranked critical access hospitals (CAHs) in the country, as determined by the Chartis Center for Rural Health. The announcement by NRHA specifically recognized Conemaugh Meyersdale as Best Practices in Quality.
The top 20 CAHs have achieved success in overall performance based on a composite rating from eight indices of strength: inpatient market share, outpatient market share, quality, outcomes, patient perspective, cost, charge, and finance. This group was selected from the Chartis Center for Rural Health's 2022 top 100 CAH list, which was released earlier this year. Conemaugh Meyersdale is one of nearly 1400 CAHs nationwide.
The top 20 CAH best practice recipients have achieved success in one of two key areas of performance:
Quality index: A rating of hospital performance based on the percentile rank across rural-relevant process of care measures.
Patient perspective index: A rating of hospital performance based on the percentile rank across all 10 HCAHPS (Hospital Consumer Assessment of Healthcare Providers and Systems) domains.
"This is such an important accomplishment for all of us at Conemaugh Meyersdale," says Tony Campagna, CEO. "The award exemplifies the outstanding care our staff and employees provide our patients each and every day. Our results as a Best Practices for Quality means our local communities can count on us to deliver the services they need with excellence and the assurance of safety."
Conemaugh Meyersdale was originally scheduled to receive the award at the NRHA's Critical Access Conference held earlier this fall in Kansas City, Missouri. Due to scheduling conflicts, the hospital was unable to attend the conference. "It was unfortunate that we couldn't be there, but we're happy to have the opportunity to accept the award with all the staff in Meyersdale. It's nice to see this deserving team recognized nationally for the great care and services we provide," Campagna said.
Photo: (from left): Lisa Popovnak, Manager of Quality Services, Infection Prevention, Risk Mgt and Patient Safety Officer; Tony Campagna, Conemaugh Meyersdale CEO; Pam Swansboro, Conemaugh Meyersdale CNO and Heather Smith, Conemaugh Memorial's COO.
Read All Posts