Conemaugh School of Nursing names new Director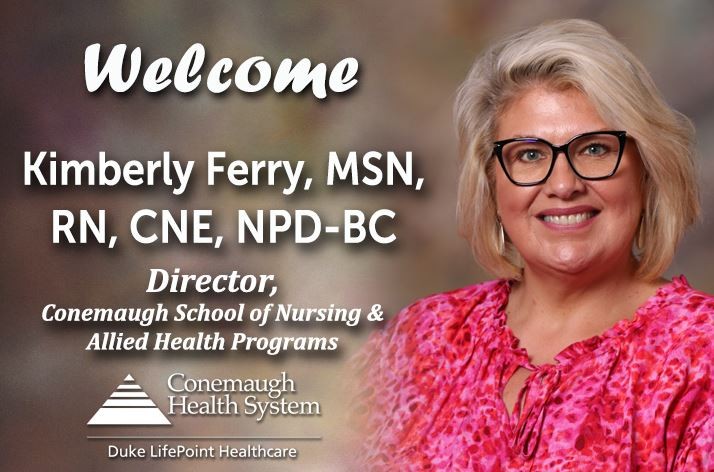 Conemaugh School of Nursing is delighted to announce the appointment of Kimberly Ferry, MSN, RN, CNE, NPD-BC, as the Director of the School of Nursing and Allied Health programs.
Ferry received her Bachelor of Science in Nursing from Penn State University in 2008 before completing her Master of Science in Nursing Administration from Waynesburg University in 2013. Her professional experience includes roles in both clinical and academic arenas. Prior to joining Conemaugh, Ferry worked as the Professional Development Manager at Excela Health and served as a Nursing Instructor at UPMC School of Nursing Shadyside.
"Conemaugh School of Nursing has a long, proud history of educating and preparing exceptionally qualified and compassionate healthcare professionals. I am honored to help carry this legacy forward and help nurture the next generation of caregivers," said Ferry.
Ferry's appointment comes just as the Conemaugh School of Nursing welcomes 40 new students into the program for Fall 2023. The school, located on the Conemaugh Memorial Medical Center Franklin Street campus in Johnstown, offers a two-year program that includes both classroom education and hands-on clinical experience.
"We're excited for this next class of nursing students as they begin their nursing journey," said Ferry. "Students in these programs complete their clinical rotations within Conemaugh Health System, working alongside, and learning from, an exceptionally skilled team of physicians and nurses. This is a remarkable opportunity for the students and benefit for our community."
About the Conemaugh School of Nursing
Conemaugh School of Nursing offers a two-year curriculum approved by the Pennsylvania State Board of Nursing and accredited by the Accreditation Commission for Education in Nursing (ACEN). Allied Health programs include emergency medical services (EMS), medical laboratory science, histotechnology, and radiologic and surgical technology. After completing their training, nearly all graduates pass their certification exams, and a significant number of them are often hired by Conemaugh Health System. The Conemaugh Valley Memorial Hospital School of Nursing was founded in 1896 following the establishment of Conemaugh Valley Memorial Hospital in 1892. The school has long been accredited by the Pennsylvania Board of Nursing and is the second-oldest nursing school in the state. On February 7, 2023, the school turned 127 years old. To date, more than 4200 nurses have graduated from this program.
Read All Posts