Conemaugh Health System Names Stanley Zagorski, MD, Advanced Wound Care Center Medical Director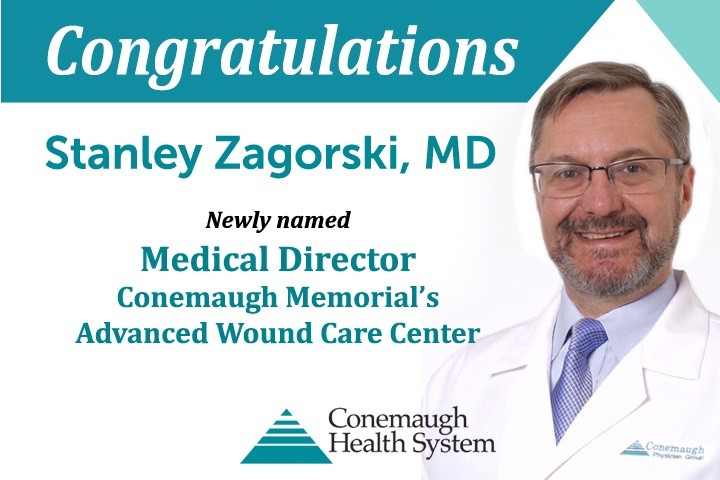 Conemaugh Health System has named Stanley Zagorski, MD, FACS as the Medical Director of the Advanced Wound Care Center at Conemaugh Memorial Medical Center.
Dr. Stanley Zagorski is a board-certified surgeon, specializing in bariatric and minimally invasive surgery and has been a member of Conemaugh Physician Group since 2014. Dr. Zagorski attended the University of Scranton in Scranton, Pa., followed by Georgetown University School of Medicine in Washington, D.C. He completed his general surgery internship and residency at Tripler Army Medical Center in Honolulu, Hawaii. He then completed an additional fellowship training in minimally invasive and bariatric surgery at Emory University in Atlanta, Ga.
"Treating wounds is an important step to helping a patient maintain overall health and wellness. Our team at the Advanced Wound Care Center provides compassionate and individualized care to each patient, allowing them to heal with less pain, few complications, and reduced risk of related medical problems so every patient can have an increased quality of life," says Zagorski.
The Advanced Wound Care Center at Conemaugh Memorial Medical Center offers an evidence-based, systematic approach to advanced wound care. The Center offers highly specialized wound care to patients suffering from diabetic ulcers, pressure ulcers, infections, burns, traumatic wounds, complicated post-surgical wounds, and other chronic wounds which have not healed in a reasonable amount of time. A patient's individualized treatment plan may include biological and biosynthetic dressings, bio-engineered substitutes, compression therapy, hyperbaric oxygen therapy, and growth factor therapies.
For more information, call Advanced Wound Care Center at 814.534.8640.
Read All Posts