Conemaugh Health System Names 2022 Mercy Award Winners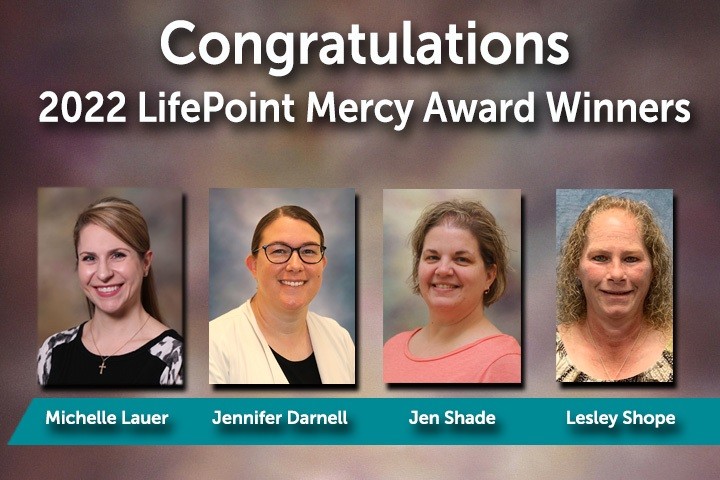 Conemaugh Health System announced today that Jennifer Darnell, Michelle Lauer, Jenn Shade, and Lesley Shope have been recognized as 2022 Mercy Award winners. The Mercy Award recognizes one employee from each of LifePoint Health's hospitals who profoundly touches the lives of others and best represents the spirit and values on which the company was founded.
The Mercy Award is an annual recognition program established in 2002 to honor the life and contributions of Scott Mercy, LifePoint's founding chairman and chief executive officer. The award is considered the highest honor a LifePoint employee can receive.
"At Conemaugh Health System, we share LifePoint's commitment to making communities healthier, and we recognize this is supported by the good work and service of our employees on and off the job," said William Caldwell, Market President, Conemaugh Health System. "We are extremely proud to recognize Jennifer, Michelle, Jenn, and Lesley for their efforts on behalf of our patients and our community. All four of these individuals go above and beyond each and every day to ensure that every person they encounter receives the highest level of care and compassion."
Jennifer Darnell has been with Conemaugh Meyersdale for 20 years. Jennifer is extremely dedicated to Meyersdale Medical Center, and her willingness to go the extra mile makes her invaluable to the hospital. While Jennifer works in Human Resources, she also serves as a liaison for the finance department, human resources, and maintains the payroll system at Conemaugh Meyersdale. During the initial COVID-19 surges, Jennifer agreed to screen patients, and assisted with the drive-thru COVID collections. Jennifer is involved in community, volunteering at her church, volunteering at Relay for Life and the Pennsylvania Maple Festival.
"Jennifer truly exemplifies the LifePoint core values of honesty, integrity and compassion. She is always kind in her interactions with others and listens with the intent to understand so that she can assist in any possible way. In addition, her honesty and integrity are without question as she diligently goes about her daily routine. Jennifer willingly accepted additional duties during the COVID surges in order to ensure that our patients were cared for in a timely manner." said H. Alan Watson, Interim CEO, Conemaugh Meyersdale Medical Center.
Michelle Lauer has worked at Conemaugh Memorial Medical Center since 2013. Currently, Michelle is in the physical therapist in the Acute Therapy Department. Michelle currently works at the Acute Care setting at Conemaugh Memorial Medical Center, but also floats to the East Hills location twice a week to provide Pelvic Floor services – a specialized clinical skill set to advance women's health. Michelle is a dedicated and caring individual, who has purchased shoes for a homeless patient, bought a gold cross necklace for a patient whose landlord disposed of her belongings during a lengthy COVID hospitalization, and has organized numerous fundraisers to help those in need.
"Michelle is an engaged employee who constantly thinks about how she can improve and create an excellent workplace," said Caldwell, who also serves as CEO of Conemaugh Memorial Medical Center. "She is always eager to participate in performance improvement projects in her department and across the organization. Michelle's input has helped support several successful initiatives including Real Time Point of Service Documentation, Acute Orientation Binder and Pelvic Floor competencies. Her level of commitment to this organization and her compassion for her patients is an inspiration for all of us."
Jenn Shade has been employed at Conemaugh Nason Medical Center for 5 years. Jenn was hired at Conemaugh Nason to be the Director of the Cardiology Program and specifically to "stand up" our STEMI Cardiac Cath Lab. She has been instrumental in growing the Cardiac Program at Nason Medical Center. Under her leadership, the Cardiology Program was recognized as the Pennsylvania Rural Health Program of the Year. Jenn also received an individual recognition from the American Heart Association as the Blair County Go-Red Heart Hero in 2021. Jenn volunteers at senior centers to promote the hospital and is developing a program called Healthy Hearts which will bring a valuable service to the rural community.
"Jenn has done an amazing job not only brining this life saving program to Conemaugh Nason, but has been instrumental in its continued growth over the years," said Tim Harclerode, CEO of Conemaugh Nason Medical Center. "From a volunteer standpoint, Jenn goes to many of the senior centers in the area to help, as well as promote Conemaugh Nason. Jenn has a unique ability to effectively assess needed areas of process improvement within the cardiac program, develop and implement plans to improve and ultimately allow us to meet our mission of Making Communities Healthier."
Lesley Shope has been employed with Miners Medical Center for a total of fourteen years in the Environmental Services Department. She continuously goes the extra mile to ensure that each department is well cared for. Lesley talks to each patient every day, and always offers her time to listen and uplift their spirits. Lesley is very involved in her community by participating in various community events and fundraisers. She is family-focused, and her dedication to her family, her employer, and her community exemplifies her caring spirit.
"With the onset of COVID-19 in March 2020, the role of cleanliness and infection prevention was vital. Lesley acted without hesitation in taking on this challenge, playing a pivotal role in addressing the continuous unknowns this virus brought forward," said Tim Harclerode, who also serves as the CEO of Conemaugh Miners Medical Center. "She worked tirelessly to ensure that all areas she was responsible for stayed spotless and clean. She always does this with a smile and a warm greeting for everyone she comes in contact with."
Each hospital winner, including Jennifer, Michelle, Jenn, and Lesley, will be considered for LifePoint's 2022 companywide Mercy Award. The companywide winner will be announced this summer and honored during a ceremony in Nashville, Tenn., in August, which all hospital winners are invited to attend.
Read All Posts