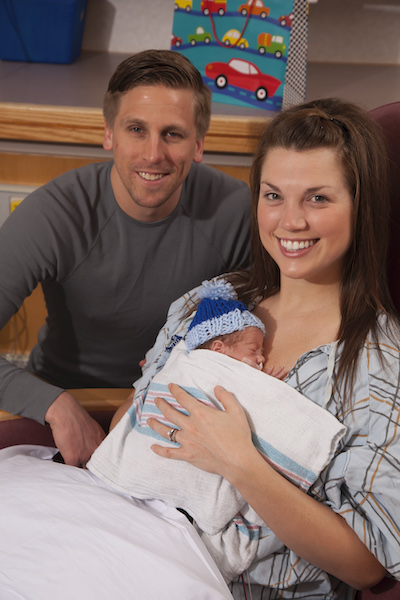 After Delivery Patient Room
After delivery, mom and baby are placed in a private patient room with a private bathroom. Mom's spouse / significant other is welcome to stay in the room throughout the day and evening. Each room offers a roll away bed, and plenty of space for baby's bassinet and visitors.
---
Conemaugh Health System's Regional Intensive Care Nursery is in Maternity Department to ensure immediate care for babies experiencing health difficulties.
---
Provider Visits
The healthcare provider who delivered baby will visit mom and baby daily until discharge to evaluate health and answer any patient questions.
---
Hands-On Baby Class
Our Maternity Department staff will assist you in becoming familiar and comfortable with caring for your new baby. A hands-on baby class is available to teach new parents how to bathe and feed baby prior to discharge.
---
Newborn Blood Work
After delivery, blood work may be completed on the baby. This may include including identification of blood type from umbilical blood, and a newborn screening taken from baby's heel. The newborn screening checks the baby for an array of disorders that can be treated if detected early in life. For some babies the nurses will also draw bilirubin and glucose levels.
---
Hearing Screen
State law mandates that all newborns have a hearing screen test prior to discharge from the hospital. Early detection of hearing loss can help diagnose potential health concerns for baby.
---
Circumcision
The healthcare provider who delivered the baby will complete the baby's circumcision. Our staff will provide post-circumcision care education before baby is sent home.
---
Critical Congenital Heart Disease Screening
The nurses will perform a screening on your baby that will assess if the baby has a heart defect. This is done using a pulse ox machine and a small wire with a band aid attached to the end. This is a painless and non-invasive screening for your baby.
---
Conemaugh Health System's Certified Lactation Consultants and Counselors offer specialized skills to make breastfeeding successful and fulfilling. Services include individual breastfeeding instruction and assistance, support for breastfeeding employees and back-to-work moms, breast pump referral list, and community lactation support group information.
---
Bottle Feeding
Formula is available to mothers who choose to not breastfeed. Formula should be purchased for feeding at home prior to delivery.