A bridge between hospital and home.
The Swing Bed Program is a Centers for Medicare Services (CMS) approved program that allows small hospitals to use regular patient rooms to provide skilled level care after surgery or hospitalization for other illnesses. This enables you or your loved one extended recovery time before returning home. This program benefits patients who require short-term post-acute care for recovery after an illness.
Conemaugh Health System's Swing Bed Program provides available skilled nursing and rehabilitation services for patients who require additional recovery time before returning home. The goal of the program is to assist patients in regaining their independence and assuring them they can return to their home or pre-hospital living arrangement safely.
Next Steps
Along with skilled nursing, swing bed provides specialties including:
Physical therapy
Occupational therapy
Speech therapy
Respiratory therapy
IV therapy
Telemetry monitoring
Complex wound care
Tracheostomy care
Nutritional support
Post stroke care
Post cardiac surgery
Post orthopedic surgery
Distinguished Recognition
Conemaugh Meyersdale Medical Center's Swing Bed Program has earned one of the highest overall ratings of any of the hospital-based Swing Bed Programs in the Duke LifePoint Healthcare System after an audit conducted by Milestone Healthcare, LLC, in November 2016. The audit applauded the quality of the program and the outstanding performance of the medical staff, nursing staff, case management, and rehabilitation services.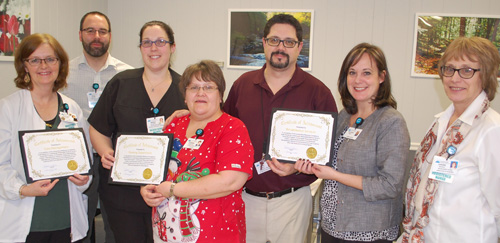 Photo (L-R): Darlene Yoder, Ryan Weaver, Sarah Schardt, Deanna Thompson,
Chris Gombita, and Heather Smith, President, Denise Shesko