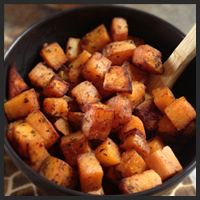 Ingredients
1 Sweet Potato
½ tsp Sea Salt
½ tsp Dried Parsley
½ tsp Ground Cinnamon
2 tsp Olive oil
---
Instructions
Peel and dice the sweet potato into bit size pieces, about ½" cubes.
Heat a skillet over medium heat and add the olive oil.
When the oil is hot, add the potatoes. Stir to coat all of the pieces with the olive oil and add the salt, parsley, and cinnamon. Mix well.
Cook the potatoes, stirring occasionally, for about 15-20 minutes. Keep an eye on them so they don't burn, but make sure they get nice and crispy. You may need to cook them longer; it just depends on the size of your skillet and the heat of your stove.
Remove from heat when they are soft on the inside and crispy on the outside.