New Hips Get Chief Back on The Beat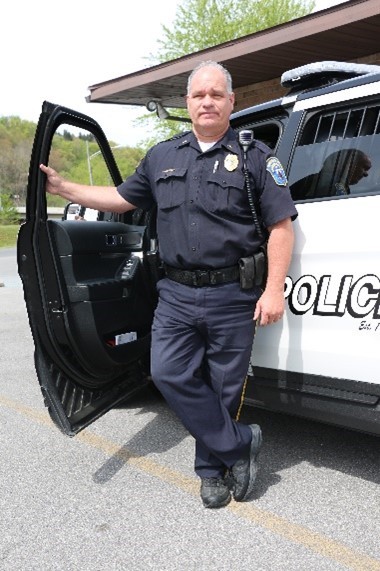 "Dr. Katz performed the anterior approach to replace both my hips. This provided smaller incisions and quicker recovery. The pain and stiffness from arthritis had limited everyday activities, such as walking. I was in constant agony with every step I took. These surgeries changed my life. I was pain free and back to work, walking and even biking again."
Andrew Frear has always led a very active lifestyle. He enjoys golfing, going to the gym regularly, biking, and walking. And his job as chief of the Windber Police Department also keeps him very active with frequent walks in the community and the day-to-day demands of his role.
Over time, Andrew started noticing that his golf game was going downhill. He was also having a hard time getting in and out of his police cruiser due to hip pain. Eventually, his hip pain was more than just preventing him from doing his job and enjoying golf – he was in excruciating pain.
Family trip was the last straw
After taking a family trip to Disney for his daughter's national cheer competition, Andrew had to take the shuttle to get around. He would typically be able to walk everywhere, but the pain in his hips was agonizing. After the trip, he decided it was time to reach out to his family physician.
Andrew's primary care physician ordered x-rays which revealed arthritis in both of his hips. After an evaluation with Dr. Ian Katz, a bilateral total hip replacement was recommended as the best option.
Andrew had bilateral total hip replacement surgery at Conemaugh Memorial Medical Center. His hip replacement surgeries were performed with an anterior approach, which is an approach to surgery with smaller incisions and a quicker recovery time.
Out of surgery, right into therapy
"I was only at the hospital for one night and did physical therapy for two weeks for both surgeries," explained Andrew. "I was off of work for six weeks, but I was back at the gym three weeks after each surgery."
Andrew's surgeries had him back to doing everything he did before spending three years in pain. He is back to biking, walking, hitting the gym, and walking the community every day. "Everything I did before the pain started, I can do now without pain," said Andrew. "Being active and going to the gym is a big part of my life and I'm grateful to be doing everything I had to stop doing when I was in pain for three long years."
Andrew has had many friends ask about his experience with Dr. Katz and Conemaugh Memorial Medical Center. He tells everyone, "I'm telling you, in six weeks, I was back to work. Overall, my experience was very positive, and I highly recommend Dr. Katz and Conemaugh Memorial Medical Center."
Read All Posts