Foil Pack Grilled Red Potatoes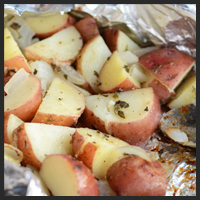 Prep Time: 5 minutes
Cook Time: 20 minutes
Total Time: 25 minutes
---
Ingredients
1 pound red potatoes, washed and quartered
1 small yellow onion, diced
1 teaspoon onion powder
1 teaspoon garlic powder
1 teaspoon parsley
1 teaspoon basil
Salt and pepper, to taste
2 tablespoons olive oil
---
Instructions
Wash red potatoes and quarter them. Finely dice onion. Place onion and potatoes in a large plastic gallon-sized bag.
Add olive oil and spices. Shake bag to completely coat.
Transfer vegetables onto a piece of aluminum foil. Then place another piece of foil on top. Fold the sides in, creating a your foil pack.
Place on your grill grates (directly on the flame) heated to about 350ºF to 400ºF. Flip bag halfway through cooking time. If you don't cook your potatoes directly on the flame, you my need to cook longer! Ultimately, cook until the potatoes can be easily pierced with a fork.