Dark Chocolate Greek Yogurt Mousse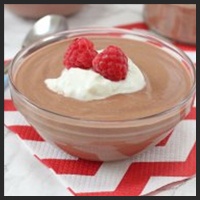 Ingredients
½ cup milk
2 ½ oz dark chocolate
1 1/2 cups greek yogurt
2 tsp honey or maple syrup
¼ tsp vanilla extract
---
Directions
Break the chocolate into chunks and put it in a microwave-safe bowl. Microwave on high for 1 minute, then stir. Microwave for 30 seconds, stir a lot, trying to stir out all the chunks. If it is still not melted, microwave another 30 seconds and stir more, just until the chunks in the chocolate are melted. If still not melted, microwave for another 30 seconds.
In a medium mixing bowl, whip the Greek yogurt with an electric mixer until fluffy. Add the sugar, vanilla and milk and beat some more, then add the chocolate a little at a time, beating in between additions.
Garnish with fresh berries of your choice.