Grilled Jerk Chicken and Peach Skewers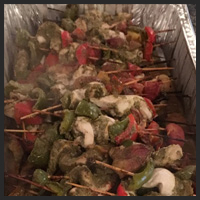 General Ingredients
A pair of kitchen goves for sensitive hands (marinade is spicy)
12 soaked skewers
2 lbs chicken thigh (boneless, skinless)
3-4 peaches
Handful of cilantro for garnish
Marinade Ingredients
1/3 cup olive or vegetable oil
1/3 cup soy sauce
1/3 cup lime juice
1/3 cup apple cider or white vinegar
8-10 garlic cloves
1/3 cup brown sugar
2 tbsp molasses
2 scotch bonnet peppers, or habaneros, or jalapenos with seeds, chopped in half
1 red onion, chopped
2 tbsp fresh thyme leaves (or 1 tbsp dry)
1 tsp salt
2 tsp freshly ground black pepper
1 tbsp plus 1 tsp ground allspice
2 tsp cinnamon
1 tsp ground nutmeg
1 tbsp ground ginger or 1/8 cup fresh sliced ginger
Directions
Soak the skewers. Cut the chicken thighs into 1 inch chunks and place in a bowl.
Place all marinade ingredients in blender, and blend until relatively smooth. Pour marinade over the chicken. Let sit 30 minutes or up to 1 hour. The longer the marinade, the spicier they will become.
Pre-heat grill to medium high.
Slice peaches to 3/4 inch thick wedges.
Using gloves, skewer chicken and peaches. The marinade will naturally transfer to the peaches.
Grill until all sides are nicely seared with grill marks. Turn heat down to low, place on a piece of heavy duty foil, folding the edges up to catch drippings. Continue until cooked the entire way through.
Place on a platter, drizzle "cooked" marinade from the foil over the skewers, and sprinkle with cilantro.