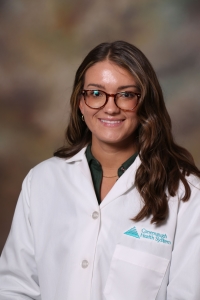 Undergraduate and/or grad and School/major: Seton Hill University
Medical School: LECOM - Seton HIll
Home Community: Irwin PA
What attracted you to Conemaugh Memorial Medical Center? I was initially drawn to Conemaugh because of it's location and the fact that it's a Level 1 Trauma Center in a community setting. While on my audition rotation, everyone was so friendly and excited to teach. I loved the close relationships between residents and attendings and thought it would be a great place to learn.
Personal Goals: After residency, I would really like to work at a hospital with medical students or residents. I also hope to some day have a family and do more traveling.
Craziest / Best / Worst Job: The best job so far was working as a scribe in the ED. I got great experience prior to starting medical school and it's what first got me interested in emergency medicine!
Interesting fact: