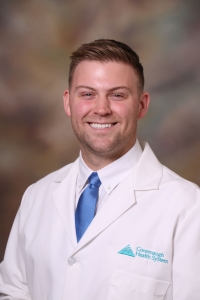 Undergraduate and/or grad and School/major: The Pennsylvania State University
Medical School: Lake Erie School of Osteopathic Medicine
Home Community: Pittsburgh PA
What attracted you to Conemaugh Memorial Medical Center? Location was a major contributor. My wife and her family are from the Johnstown area and I wanted to stay close to them throughout my years of training. I also felt Conemaugh would provide me with the best education out of all the programs I interviewed with.
Personal Goals: I have never been out of the country, so one of my goals is to travel to new places with my wife. I also hope to become a dad and raise a family of my own.
Craziest / Best / Worst Job: One of the best jobs I had was landscaping at the Penn State golf courses during my undergraduate years. I watched the sunrise every morning, had a few extra bucks in my pocket, and the best part, I could golf for free.
Interesting fact: Know all the words to Grillz, by Nelly.