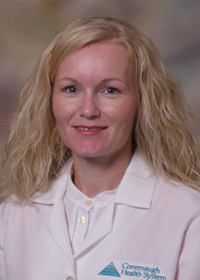 Assistant Director, Family Medicine Residency
Jagiellonian Medical School, Krakow, Poland 2007
BS in Nursing from Bodo, Norway 1999
Conemaugh Family Medicine Residency 2012
Med school: Jagiellonian University Medical School, Krakow, Poland. Graduated 2007 with MD title.
Undergraduate: Bodo College, Norway 1999. Bachelor in Nursing.
Biography: I grew up in "The Arctic" North Norway. I have always been interested in health and travelling and those interests have led me to eventually end up in Johnstown, PA. After living in Poland while studying medicine, I moved to West Virginia and then to Pennsylvania. Johnstown has been my hometown for over one decade and raising a family here has been good. I like the four beautiful seasons we get in the area and the proximity to many interesting cities and recreational parks.
Professional Interests: I practice Family Medicine because it gives an opportunity for patient interaction and a variety of medical problems. I have special interests in dermatology, diabetes, osteoporosis, preventative medicine and doing procedures. I also like inpatient care and doing research. Education is also close to my heart, and I work in the Family Medicine Residency Program which gives me many opportunities to do what I enjoy.
Hobbies: Travelling, exercising, playing piano, listening to music, cooking, reading, skiing and spending time with my family.