Jessica Masser, DO, MS, MSMedEd, FAAFP, FACOFP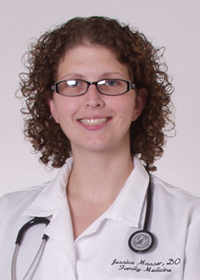 Associate Program Director, Family Medicine Residency
Director of Osteopathic Education
Biography: Originally from Johnstown, Pennsylvania, she graduated from Frostburg State University in 2001 and earned her Doctor of Osteopathic Medicine from the Philadelphia College of Osteopathic Medicine (PCOM) in 2006. She joined the faculty after completing her residency here at Conemaugh. She also holds a Master of Science in Neuromusculoskeletal Medicine from the PCOM and a Master of Science in Medical Education from the Lake Erie College of Osteopathic Medicine. She is a past president of the Pennsylvania Osteopathic Family Physician Society (POFPS), treasurer for Pennsylvania Osteopathic Medical Association (POMA) District VIII and member of the POMA, POFPS and District VIII Education Committees.
Professional Interests: Dr. Masser is board-certified from the American Osteopathic Board of Family Physicians and a Fellow of the American College of Osteopathic Family Physicians. She enjoys seeing a wide array of patients doing both inpatient and outpatient care. She has a passion for Osteopathic Manipulative Treatment (OMT) and uses it frequently in her patients.
Hobbies: She loves spending time with her husband and two children. When not working, you can find her busily involved in the community and her church. She frequently volunteers at her high school alma mater which her children now attend and loves being a part of the community she grew up in. She enjoys coaching multiple sports and spending time on her family farm.