Heart Failure Program Patient Derrick Holloman – A Man with A Happy Heart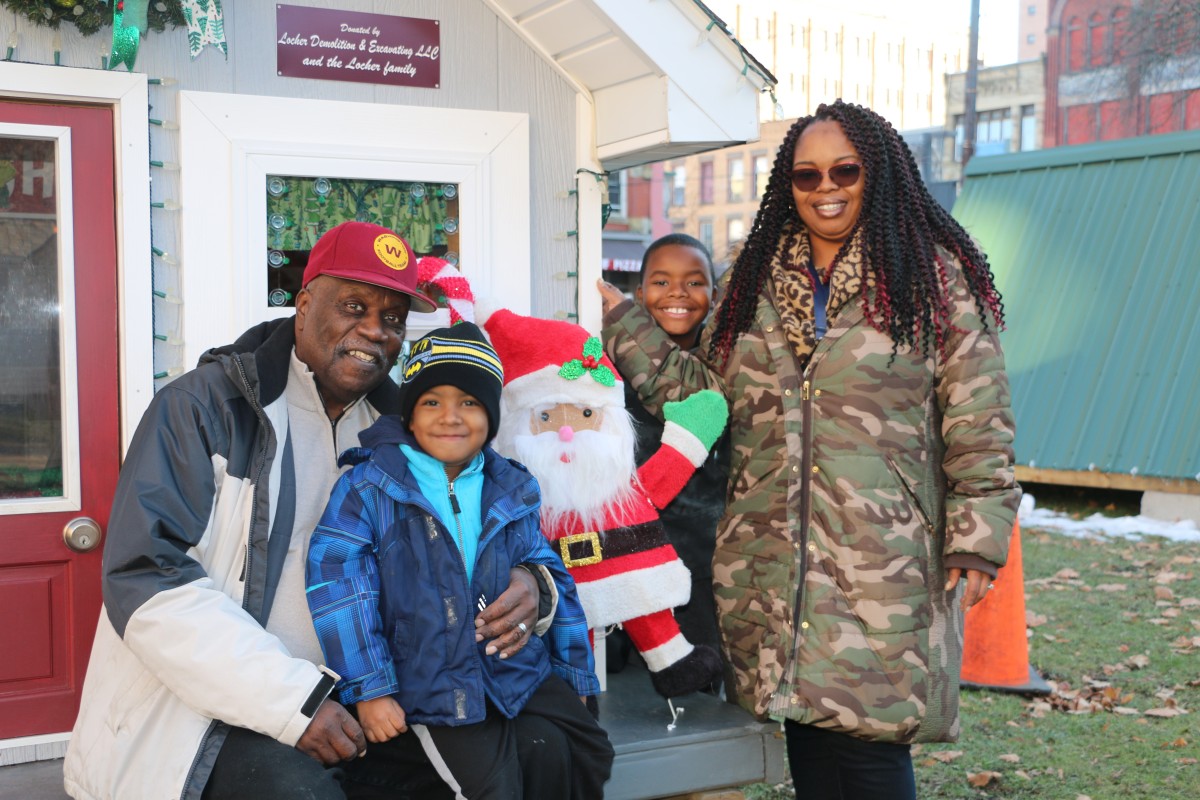 When Derrick Holloman moved to Johnstown from Washington, DC eleven years ago he arrived with an enlarged heart and a pacemaker that was as worn out as he felt. There wasn't must time to focus on health concerns, as a year after the move Derrick found out that he and his wife, Dandrea, were expecting a child. Their son, Derrick, Jr. was his first child and Dad couldn't have been more thrilled.
Keeping up with a youngster and routine chores became more and more difficult for Derrick. He was noticing that his legs and feet were swelling. It was hard to even walk from one room to the other. Sleep had become a struggle, and often meant propping a stack of pillows on the bed or sleeping in a living room chair. He was tired all time. Food wouldn't go down due to severe gas pains. All were signs of Derrick's congestive heart failure.

Derrick came into Conemaugh Memorial with only a month left on his current defibrillator battery. In August 2022, electrophysiologist, Dr. Lou Mastrine, decided it was best to install a new defibrillator. Derrick states with a smile, "They put a Lamborghini in me. I tell my son, now I get all the channels."

As excited as he was about the updated technology, Derrick found himself continuing to suffer from debilitating swelling. On a follow-up visit to the hospital in September, he ran into Jamie Penrod, a nurse he knew well from his visits to the cardiologist's office. She remembered Derrick's smiling face and positive attitude and encouraged him to contact her at The Heart Failure Program in Conemaugh Memorial where she now worked as Program Manager.

Derrick's health and well-being took an almost immediate turn-around as a patient in The Heart Failure Program. "It's a one-on-one program," stated Derrick. "They call you every day to see if you're breathing right, see how you feel, and check on your medicine. They are on top of your daily health." For Derrick, this meant they worked with his cardiologist to adjust his heart medications and dosages. He took off nine pounds of water weight within a month and no longer suffers from the severe swelling in his legs and feet.
"Derrick had a history of defibrillator implantation for a weakened heart muscle and presented with fluid overload when I first met him," stated Dr. Mastrine. "He underwent a device upgrade in order to optimize his heart function and he tolerated it well. Since establishing himself with our heart failure clinic, we have followed him closely and made medication adjustments to optimize his fluid status and heart function. I'm happy to say his breathing and physical activity tolerance have greatly improved."
Jamie Penrod is passionate about her work. "I came to work with The Heart Failure Program because I see the quality of life and health benefits it gives to our patients. It is really gratifying to see the smile back on Mr. Holloman's face and the energy he has now with his new defibrillator and the right medications," stated Jamie. "I get so much satisfaction working with patients to help them have a fuller life after heart failure."
Derrick beams with joy and excitement as he describes the life he now enjoys with his wife and son. "I can mow my yard and go for walks. And, for Halloween this year I did over 6,000 steps with my son! A few months ago, I couldn't even walk five steps to get to the bathroom." Derrick's mother lived to be 96 years old – an age he now believes he just might have a chance to achieve.
Read All Posts