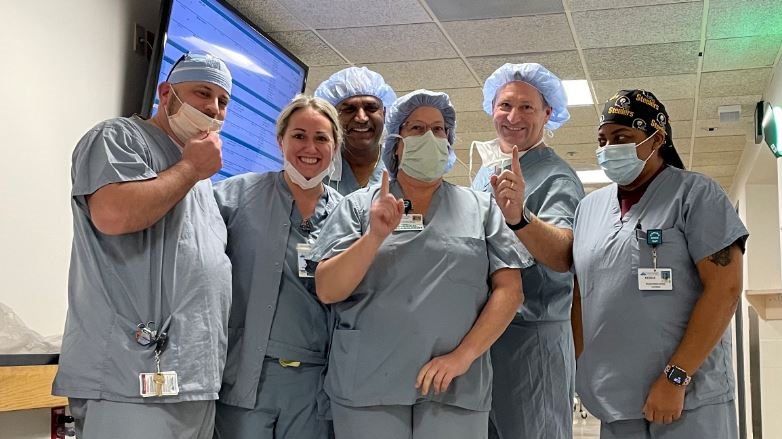 Conemaugh Memorial Medical Center's cardiac team celebrates the hospital's first Optimizer implant. The new device provides hope for congestive heart failure patients who have not responded to other treatments. Team members are David Chuklochak, Ashley Yarina, Dr. Cyril Nathaniel, Dorothy Causer, Stephen Vogel, Keisha Williams.
The American Heart Association states that one in five Americans ages 40 and older will develop heart failure. To address the need for ongoing care for cardiovascular patients, Conemaugh Memorial Medical Center has developed a comprehensive Heart Failure Program. Patients who participate in the Program have a better chance to manage their symptoms, avoid a return to the hospital, and lead a healthier, more active life.
Conemaugh's Heart Failure Program is available to patients, by referral, from Conemaugh Health System hospitals, or by referral from outside physicians. The Program is managed by an onsite Heart Failure Coordinator. The Program partners with referring physicians to help evaluate the severity of heart failure and monitor your medication dosage.
Conemaugh's Heart Failure Program also provides education to help you manage your heart failure. Along with your doctor, we can help create an action plan regarding your medications, low salt diet, fluid intake, weight management, exercise, and more.
Program participants will learn about:
How the heart works
Causes of heart failure
Types of heart failure
Symptoms of heart failure
Heart failure self-management
A heart-healthy diet
Sodium and fluid restrictions
Common medications
For more information on participating in the Heart Failure Program
Call 814.534.3245
Conemaugh Memorial Medical Center - Good Samaritan Building, Suite G69
1086 Franklin Street, Johnstown, PA 15905