Patient Safety
Conemaugh Nason Medical Center has made patient safety a priority by:
Creating an education Hospital and Medical Staff on patient safety practices.
Maintaining a Patient Safety Committee with community representation, which leads to the organization's patient safety efforts.
Participating in the Pennsylvannia Patient Safety Authority Initiatives
Maintaining accreditation by The Joint Commission and participating in the patient safety initiatives which included implementing best practices related to National Patient Safety Goals and urging patients to become active, involved, and informed participants in the healthcare team through the Speak Up Campaign.
Conemaugh Nason's Patient Safety Officer can be reached at (814) 224-6272 for questions or concerns regarding patient safety.
---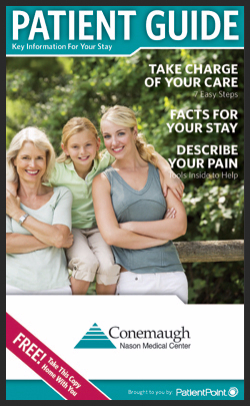 Patient Guide
Click here to access an online version of the Patient Guide for Conemaugh Nason Medical Center
---
Financial Assistance
Click here for details about Conemaugh Nason's Charity Care program
---
Patient Arrival
Staff talk with each patient to verify insurance infomation and personal data. This information is required for hospital records, and to ensure efficient patient care. Patients will be asked to sign several forms to authorize medical treatment while hospitalized. Conemaugh Nason offers a choice of private and semi-private rooms. While we will try to honor patient preference, alternative arrangements may be made neccessary due to physician's orders or hospital requirements. Any request for changes in room accommodations willl be honored if beds are available.
---
What to Bring
Patients should bring insurance cards, a photo ID, and form of payment (cash, credit card, or check) if payment has been requested prior to a hospital stay. These valuables should then be sent home with a family member.
The patient's physician will prescribe the medications needed during the hospital stay. If already taking medications, please bring a list of the medications and dosage.
---
Personal Belongings
Send personal belongings and valuables home with a family member. Conemaugh Nason Medical Center is not responsible for lost or misplaced belongings or valuables.
---
Televisions
Conemaugh Nason Medical Center equips each room with a television that provides cable service, free of charge. The nursing staff will provide operation instructions and assistance as needed
---
Telephones
Patient rooms have a direct-dial telephone for receiving and making calls. To make a call:
Local Calls: Dial "9" + the phone number. All local calls are free of charge
Long Distance Calls: These calls will be made collect and will charge to patient's home phone or calling card
Within the 814 Area Code: Dial "9" + "0"+ "814"+ the remaining digits of the phone number
Outside of the 814 Area Code: Dial "9" +"0" + the entire phone number
AT&T: Dial "9" + "1" + "800-225-5288"; patient must call collect to charge calling card
Friends and family members may contact patient directly by dialiing "224"+ patient's direct extension number that is found on patient phone. Cell phones may also be used to communicate in both patient rooms and waiting areas.
---
Mail and Newspapers
All letters, packages, and flowers that are addressed to a specific patient will be delivered to the patient's room. Newspapers and other reading materials may be purchased from the Gift Shop.
---
Spiritual Care
This area is located off of the Main Lobby for the convenience of anyone who desires a quiet place for rest and meditation.