Joint Replacement Program at Conemaugh
Conemaugh Health System's comprehensive joint replacement program is designed to educate, prepare, and follow-up with patients receiving joint replacement surgery.
Joint replacement surgery is often recommended when all other treatment options, including but not limited to rest, medication, exercise, and physical therapy, have been exhausted. Joint replacement surgery can have a tremendous impact on a patient's quality of life by providing joint pain relief that improves independence and mobility.
Top Hip Joint Replacement - Patient Health Guide
Top Knee Joint Replacement - Patient Health Guide
Joint AdVentures Class
Conemaugh's Joint AdVentures replacement pre-surgery program provides detailed information to patients and a loved one designated as the patient's coach. Being prepared and knowing what to expect contributes to shorter hospital stays, fewer complications, and faster recovery time.
Knowledge of how the hip or knee works
What to expect before, during, and after surgery
Breathing exercises
Pre-operative exercises
Learn about assistive devices and joint protection
Discharge planning, insurance, and obtaining equipment
Completion of pre-operation forms
Questions and answers with the Joint AdVentures team
---
Robotic-Assisted Surgery
Conemaugh Health System offers robotic-assisted total joint replacement surgery, which allows for customization to the unique shape and motion of your hip/knee. Orthopedic surgeons who are specially trained to use the system use it for total knee and hip replacement procedures transforming the way joint replacement surgery is performed.
Every hip/knee is unique. If you have tried nonsurgical treatments and your hip/knee pain continues, joint replacement may be necessary to reduce pain and restore functioning.
Benefits of robotic-assisted joint replacement may include:
Smaller incisions
Faster recovery
Optimal implant placement
Potentially reduced impact to surrounding soft tissue
Dynamic joint balancing
It is important to note that in robotic-assisted joint replacement surgery, the entire procedure from planning to implantation is performed by an orthopedic surgeon. The robotic technology is an advanced tool that provides additional precision and accuracy for the surgery but does not replace the skill of the surgeon.
Our team of physicians specializing in orthopedic surgery are prepared to treat most orthopedic conditions, as well as provide consultations and second opinions. Conemaugh Health System's interdisciplinary team approach connects physicians, nurses, physical and occupational therapists, social workers, nutritionists and pharmacists in caring for orthopedic patients.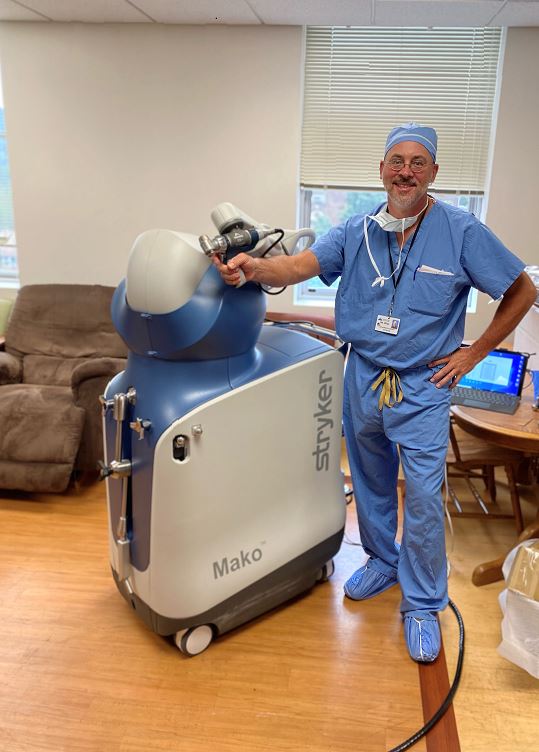 ---
Gender-Specific Replacements
Conemaugh physicians utilize gender-specific replacements that fulfill needs of men and women.
---
Hip and Knee Seminar
Attend a free Joint Adventures Orthopedic Hip and Knee Program to learn the latest treatments to lessen your pain, as well as information about medications, nutrition and exercise.
Call Sharon Kaseler, PA-C, at (814) 534-5150 or toll-free at 1 (866) 534-5150 to register.
---
Conemaugh Memorial Medical Center
1086 Franklin Street
Johnstown, PA 15905
814-534-9000
Conemaugh Nason Medical Center
105 Nason Drive
Roaring Spring, PA 16673
814-224-2141
---
Real Patients. Real Stories.
New Hips Get Chief Back on The Beat
Three years of pain were relieved within six weeks for Windber Police Chief
"Dr. Katz performed the anterior approach to replace both my hips. This provided smaller incisions and quicker recovery. The pain and stiffness from arthritis had limited everyday activities, such as walking. I was in constant agony with every step I took. These surgeries changed my life. I was pain free and back to work, walking and even biking again."
Andy Frear, Windber Chief of Police - Bilateral total hip replacement patient