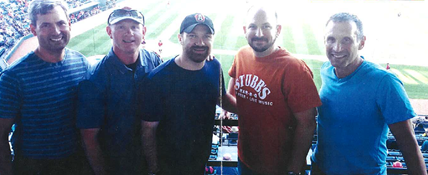 Contact Information
Lisa Shover
lshover@uoc.com
(814) 942-1166 ext. #4234
Conemaugh Memorial Medical Center has partnered with University Orthopedics Family Medicine Sports Medicine Fellowship. The fellowship director is Shawn Saylor, DO, who completed a sports medicine fellowship at St. Joseph's Medical Center and Commonwealth Orthopedic Associates, Reading, PA.
Applications are being accepted until October through ERAS for one fellow with a July 1 start date. We cannot accept H-1B Visas.
The fellow will have the opportunity to train with our expert sports medicine family and orthopedic physicians and will receive most of their training in the Blair Orthopedics Sports Medicine Center of Excellence located in Altoona, PA and at Nason Hospital Roaring Spring, PA.
For more information visit https://www.uoc.com/ or contact Lisa Shover at (814) 942-1166 ext #1166.
---
Curriculum
The fellowship provides a well-balanced curriculum covering all aspects of primary care sports medicine including:
Direct interaction with University Orthopedic Center's faculty in the clinic, traning room, operating room, and at sporting events
Highly trained faculty in a wide range of sports medicine subspecialty fields, both surgical and non-surgical
Office-based practice experience
Pre-participation physicals
Experience treating professional, collegiate, and high school athletes
Opportunity to work with "weekend warriors" and general patients with a variety of musculoskeletal complaints
Primary-care training under the direction of Jeanne Spencer, MD

On-site training with the latest technology including:
Ultrasound/D-ray/MRI
Neuropsychological testing for concussion management
Compartment pressure testing
Durable medical equipment
Exposure to physical therapy, PMR-EMG testing
Pain Management - epidural injections
Podiatry
Fracture care and casting
Scoliosis management
Clinical trials/research
Intra-articular knee injections
Injections of placental stem cells for knee Osteoarthritis
---
Program Goals
Produce quality, competent, caring, physicians ready to enter the sports medicine world with knowledge and skill
Provide the fellow with total educational support from all physicians, administration, and allied health professionals
Prepare the fellow to practice primary care sports medicine and successfully pass the CAQ in sports medicine
Competency in ultrasound-guided procedures
Intra-articular injections of the knee, shoulder, hip, ankle and wrist