Conemaugh Physician Group – Welcomes Gastroenterologist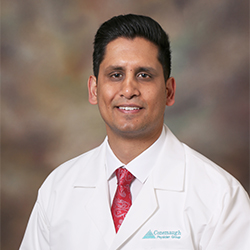 Conemaugh Physician Group – Gastroenterology is pleased to welcome board-certified gastroenterologist Akil Hassam, MD.
Dr. Hassam earned his medical degree at Temple University School of Medicine, Philadelphia, PA. He completed his residency at Temple and a fellowship at New York Presbyterian Queens, New York, NY.
Dr. Hassam, originally from New York, will be providing care and treatment to patients with disorders of the esophagus, stomach, intestines and colon at Conemaugh Memorial. "My father is in the medical field which gave me the opportunity, while growing up, seeing firsthand what it was like to help people in discomfort", he said. "Even though gastroenterology is a specific specialty, it encompasses multiple organs within the human body which I find fascinating. With so many state-of-the-art procedures and treatment options in today's world that can help people lessen their pain and discomfort, I can follow in my father's footsteps in caring for patients. Conemaugh's staff are highly skilled and compassionate, which made my decision of caring for and treating patients here the right choice."
Appointments may be made by calling Conemaugh Physician Group – Gastroenterology at (814) 534-1270.
Read All Posts