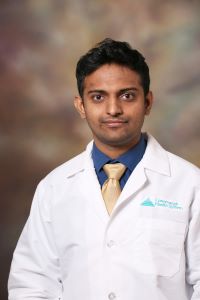 Medical School: Bangalore Medical College and Research Institute

Hometown: Bangalore, India

Why Conemaugh? Caring attendings who make sure you don't feel overwhelmed and at the same time spend enough time teaching you; Small program with few residents, therefore you get more individual attention from both your seniors and attendings along with the opportunity to do a lot of inpatient procedures; Supportive administrative staff resulting in less stress with respect to paperwork; Small hilly town with cheap rent, so you end up saving a lot of money.

Medical Interests: Nephrology, Rheumatology

Personal Goals: Work hard, sleep well.

Interesting fact(s): I love to explore new places and play basketball.