Conemaugh Health System recognizes clinical and non-clinical staff for outstanding commitment to those for whom we care. Every day our patients and their loved ones inspire us to new heights of hospitality, and these employees go above and beyond for those individuals.
January 2020 Recipients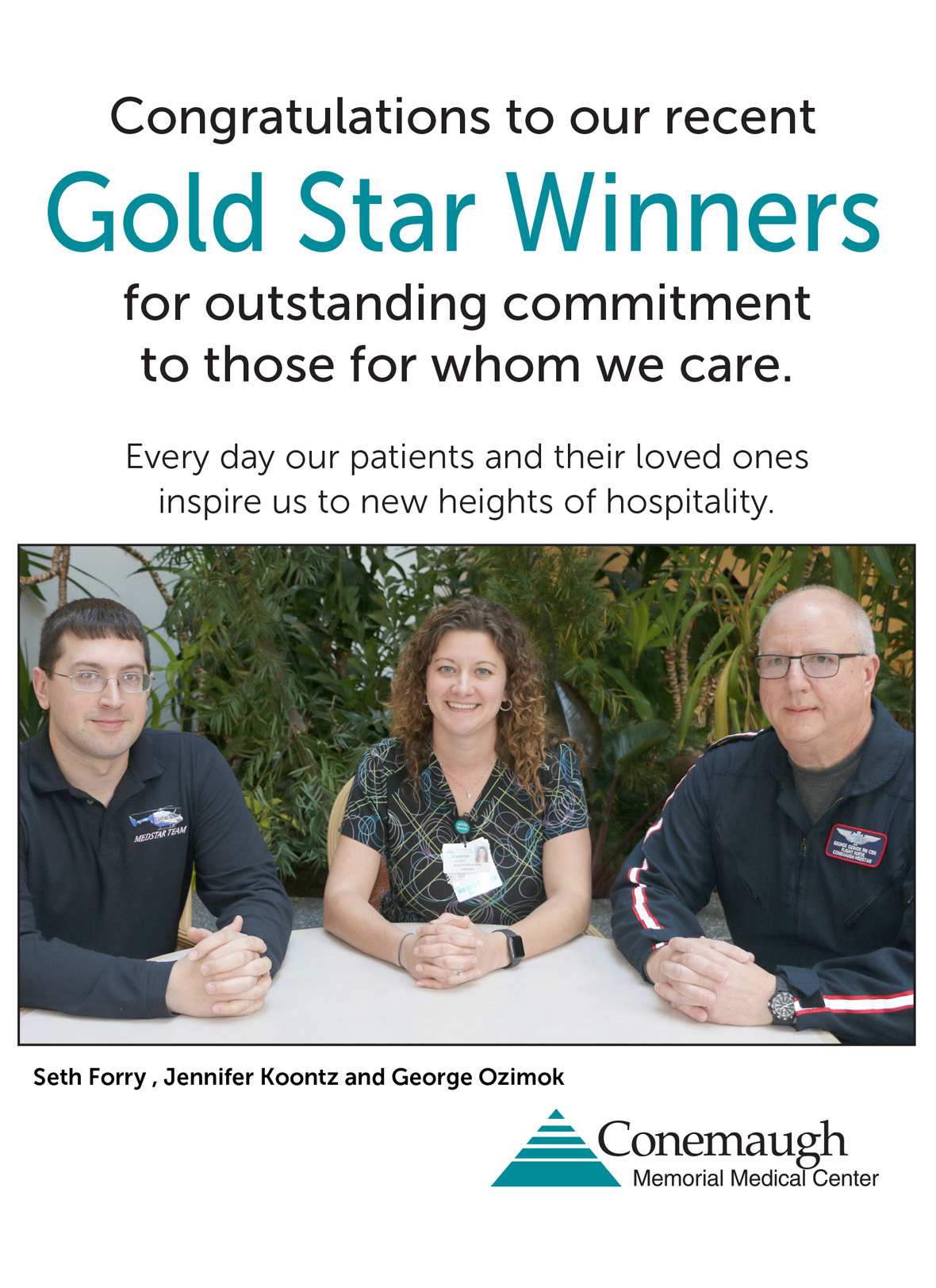 Jennifer Koontz – 9 Ashman – Coworkers nominated Jen based on a letter written by a patient's daughter.
Jennifer stopped to talk to the daughter of a patient. The daughter was sitting on a bench, crying. She was taking care of her elderly Mom. The mom has multiple health issues that has resulted in her daughter having to care for her Mom and make many difficult decisions. She poured her heart out to Jen and Jen was there to listen to her worries and concerns. When talking to her, Jen found out that before the daughter's mother got sick, she and her husband liked to see plays at Jennerstown Mountain Playhouse. Now that she is taking care of her Mom, time and money were very limited and she found it hard to do anything for herself. After hearing this, Jen decided she wanted to do something for her. She purchased a gift certificate to Jennerstown Mountain Playhouse for the daughter and her husband. She asked her staff to sign the card and they presented it to the daughter. She told them in the card that 9 Ashman staff were thinking of them during this hard time. The patient's daughter was overwhelmed. She said, "We want to thank you a million times. Jen you had no idea the other day on the bench outside would turn in to a confessional by a tearful woman who was at her wit's end with many decisions regarding my Mom's healthcare. You were so kind to me in my moment of exasperation and I poured my heart out to you. I'm sorry to have burdened you but you were so very kind to me. Even though you had a waiting husband and two dear boys in daycare, YOU had time and made time for ME! From my heart and my husband's we can't thank you enough."
George Ozimok & Seth Forry – Pre-Hospital – A coworker nominated George and Seth
On Thanksgiving the family of a patient requested that he be transferred from ICU to Pittsburgh for open heart surgery. Pittsburgh wanted to come to transport this very critical patient but we opted to facilitate the transport. The ambulance was from Somerset. The patient was on an IABP and when the ambulance was on Route 22 at the top of Penn View Mountain, the battery pack from the IABP went dead and shut off. George and Seth immediately tried to plug into the ambulance's power outlet only to find it not working. At this point they realized there was no way to run the IABP for this patient. This took some fast and critical thinking on the part of George and Seth in order to save this patient. They quickly discussed the possibility of turning around and going back to Johnstown while manually pumping the balloon, since it was closer than finishing the run to Pittsburgh, however given the critical condition of the patient they did not think this was medically in the best interest of the patient and could actually cause serious problems. Bagging increases the risk of clots. They decided that they were almost at Blairsville and there was a Walmart. When they reached Walmart, they ran in and found a manager. They pulled up near the soda vending machine. The manager brought out a long extension cord. They unplugged the vending machine and plugged in the extension cord and hooked that up to the IABP. They called another ambulance and waited there until it arrived.
We want to recognize George and Seth for their quick thinking. It saved this patient's life. When the unforeseen happens, critical thinking skills are necessary for the patient's safety and well-being.
July 2019 Recipient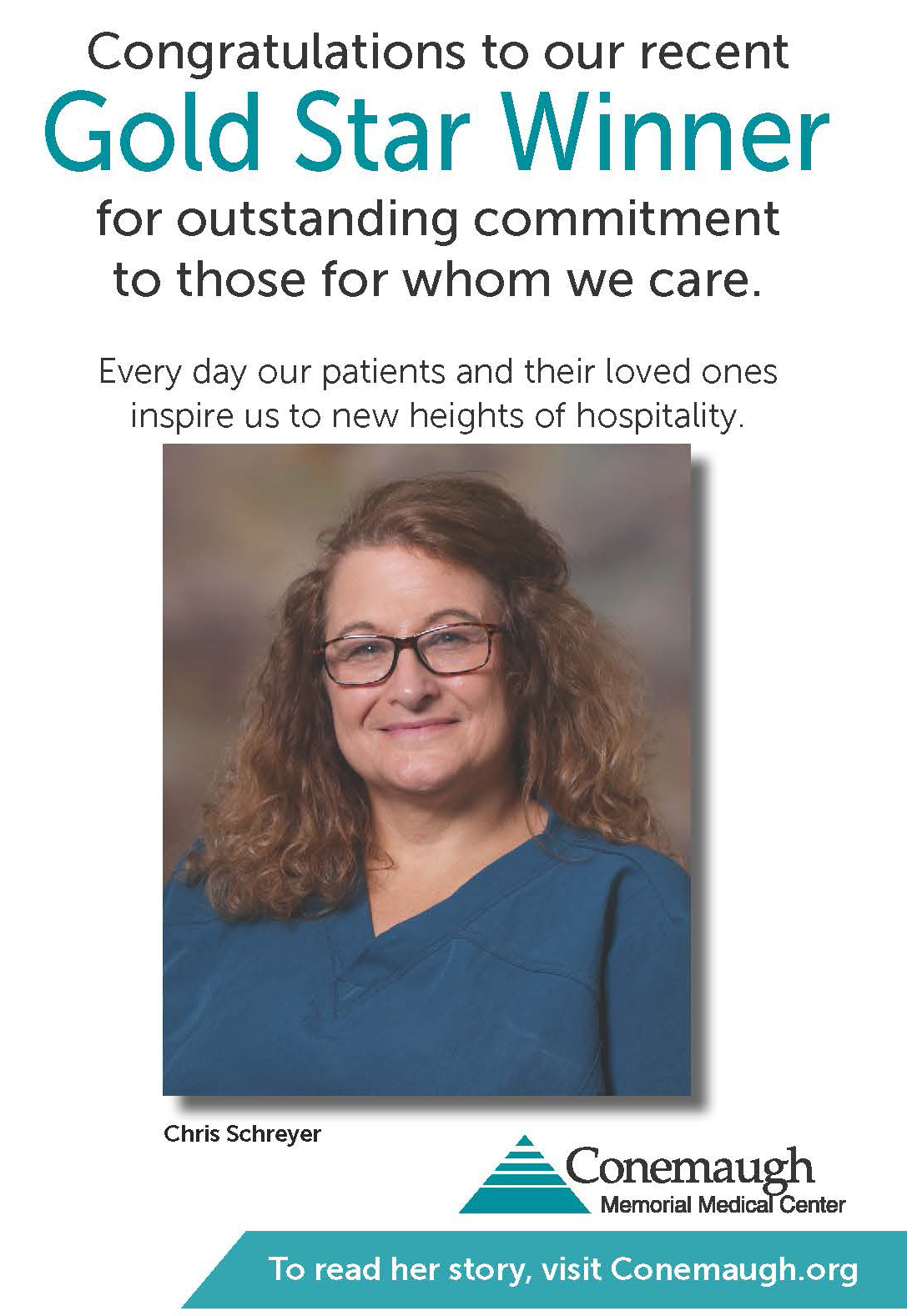 Chris Schreyer - 8 Ashman
A coworker nominated Chris.
"Our department recently lost one of our RNs and coworker as the result of a devastating accident. Our manager Chris Schreyer went above and beyond her role as a manager. When we were first alerted we immediately contacted Chris to make her aware of the incident. Chris quickly came to the hospital and sat with our coworker, his family and his fiancé, who is also an employee on our floor. Chris was there with her through the entire night and into the morning. She was able to keep her composure and come to our floor to update us. In such an emotional and heart ripping situation she was able to maintain the utmost professionalism, concern and care for our coworker's entire family and fiancé as well as all of her staff. Chris participated in the CORE walk that took place, the viewing, the funeral and she accompanied his fiancé to the CORE donor center to be there with her as his final act of care took place as his organs were donated to many patients who were in need.
Chris has been there for each and every one of us during this time. She takes it day by day – not only to grieve for herself, to be there for us and to also maintain an amazing nursing unit. Chris should be recognized for her compassion to all involved. I cannot speak enough of the level of respect I have for her and I can only aspire to be in a small way the person who she is. I'm sure everyone within our organization has heard of the heartache our department suffered but I don't know that many are aware of everything that Chris has done. We would like to see Chris recognized as a way to thank her for being there for all of us."
May 2019 Recipients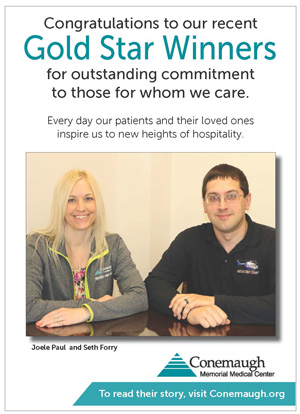 Joele Paul - CPG Highlands Family Medicine
A coworker nominated Joele.
"Joele Paul is an LPN at Highlands Family Medicine. There is a patient with mental challenges who lives by herself and has no family. The patient was prescribed a much needed daily treatment for a period of time. There was a problem though. The patient has no transportation and was unable to return to the Highlands Family Medicine office every day. To complicate the matter, this patient is very suspicious of people that she doesn't know and does not want or allow strangers into her home so arranging for someone to go into her home was unsuccessful. Joele understood the importance of making sure the patient complied with the prescribed medical regiment. Without it, she could become very sick. Joele also knew she had formed a bond with this patient from her interactions with her in the office. She had come to trust Joele and feel confident with her as a caregiver. Joele was able to reason with the patient and she eventually talked the patient into allowing the home visits. Joele's positive attitude and willingness to do whatever it took to help this patient was an inspiration to her coworkers. The patient was extremely grateful and a medical emergency was adverted. Thank you, Joele, for your compassionate care."
Seth Forry - Flight Services
The family of a patient nominated Seth.
"I have an elderly, handicapped uncle who lives in an apartment building in the 8th Ward. My uncle is obsessed with helicopters and he intently watches out of his living room window every time a helicopter lands or takes off from the helipad at the hospital. Your employee Seth Forry was on a DART run at my uncle's apartment building and my uncle by chance encountered Seth. He struck up a conversation with Seth, of course about helicopters and Med Star. Seth told him that he would bring him back a calendar and other Med Star "Swag". After Seth's shift had ended, he returned as promised, found my uncle and gave him the Med Star gear. My uncle was overjoyed not only with the items Seth gave him but more importantly that Seth took time out of his day to talk to him about his love of helicopters. This was a considerate and kindhearted act on Seth's part. We would like to see Seth recognized for his unselfish act. Seth is not only living up to your mission of "Making Communities Healthier" but he also is making our community HAPPIER as well. Thank you Seth!"