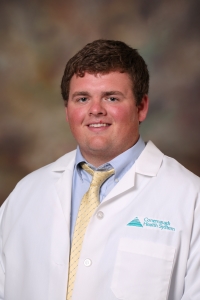 Undergraduate and/or grad and School/major: West Virginia University
Medical School: West Virginia School of Osteopathic Medicine
Home Community: Crawley, WV
What attracted you to Conemaugh Memorial Medical Center? Conemaugh is a Level 1 trauma center so as a resident you get plenty of exposure to traumas. We don't compete with other residencies at our hospital for procedures and we get to manage our own reductions and airways. I had the opportunity to rotate here as a student and it definitely had a family feeling between the attendings and the residents which is important because you spend so much time with each other over the 3 years of residency.
Personal Goals: Quit hitting golf balls into the woods; cook the perfect cheeseburger.
Craziest / Best / Worst Job: Best/craziest was probably caddying at the Greenbrier Resort, some people take golf too seriously but it was a good summer gig and I could play free golf at a beautiful place. Lifeguarding was probably the worst job I've had. Sitting on a chair in the sun for hours on end was brain melting.
Interesting fact: I played football at WVU for a couple seasons.