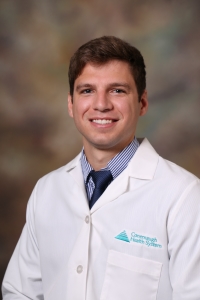 Undergraduate and/or grad and School/major: University of Pittsburgh
Medical School: Lake Erie College of Osteopathic Medicine
Home Community: Bedford PA
What attracted you to Memorial Medical Center? The reason I chose Conemaugh was the people. When I rotated here, I had an amazing time and I loved everyone I worked with. It is truly a family atmosphere and I wouldn't want to be anywhere else. There's never a dull moment.
Personal Goals: Learn to check my emails more
Craziest / Best / Worst Job: Grillman at Wendy's was the best job. I worked with so many interesting people who had no business handling your food. Close second was at a beer distributor.
Interesting fact: My first car was a PT Cruiser and it was nearly indestructible. Surprisingly enough its Achilles heel just happened to be a deer at 50mph, who knew?